24th August, 2010
Peugeot have finally confirmed the world's first fully hybrid diesel car. Going on sale in the spring of next year, the 3008 Hybrid4 should achieve 74.4mpg, and emit 99 g/km of CO2. Powered by a 2.0-litre 163bhp HDi engine and a 37bhp electric motor, for a combined output of 200bhp, the Hybrid4 will be able to operate in a full-electric, ZEV (Zero Emission Vehicle) mode, as well as four-wheel drive, auto and sport modes.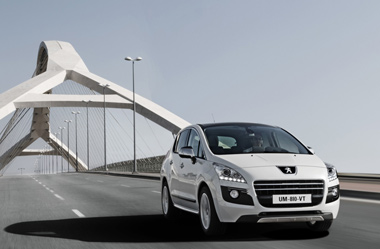 The electric motor will drive the rear wheels and the diesel engine will drive the front wheels. However, while the electric and diesel powertrains will be able to operate separately, they will also work together when required, such as under hard acceleration.
The six-speed electronically controlled gear box can operate in both manual and automatic mode as required. It will also feature plenty of other technology, including a stop/start system, daytime running lights, a heads-up display, hill start assist, and 3-D satellite navigation.
Prices are likely to start at about £25,000.
Growth of the Hybrid market
Believe it or not, but the hybrid fuel car has been in development since 1900 when Ferdinand Porsche developed the Lohner-Porsche Mixte Hybrid. This was the first gasoline-electric hybrid automobile in the world. However hybrid-electric vehicle did not become widely available until 1997 when Toyota released the Prius, followed by the Honda Insight in 1999. While initially perceived as unnecessary due to the low cost of gasoline, worldwide increases in the price of petroleum caused many car manufacturers to release hybrids in the late 2000s. They are now perceived as a core segment of the future car market.
Toyota remains the worldwide market leader of hybrid vehicle sales, reaching 1.0 million vehicles by May 31, 2007; the 2.0 million mark was reached by August 31, 2009; and 2.68 million units by July 2010, with hybrids sold in 80 countries and regions.